For many years, the Oregon – Columbia NECA / IBEW L.U. 48 Commercial / Industrial Agreement, under section 10.04, required two Journeymen when working on ALL energized circuits and equipment operating at, or above, 440V AC and / or 250V DC.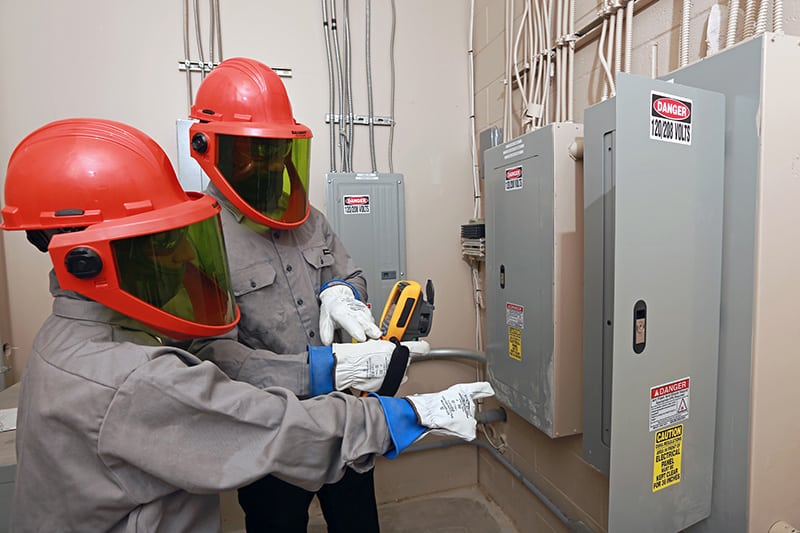 At the time this language was agreed upon, safety standards such as the NFPA 70E, The Standard for Electrical Safety in the Workplace, and IEEE – 1584 arc flash calculation formulas did not exist.
Today, we have a number of ways to better predict and assess risks related to working on, or near, exposed energized electrical circuits and equipment.  Additionally, new safety design features such as factory installed shock protection barriers, arc blast venting, remote switching and overcurrent protective devices with maintenance mode settings can be used to lower arc flash and blast intensities and reduce overall risk.
To legally perform energized work, employers must be able to justify why the system cannot be shut down and put into an electrically safe work condition.  There are only 2 pathways to meet OSHA and NFPA 70E justifiable criteria.  Either de-energizing creates a greater hazard OR it is infeasible to shut the electrical system down to perform diagnostic and troubleshooting tasks.
Whether the energized work can be considered justifiable or not, employers must also determine when additional personnel are necessary to safely execute the work and perform first aid / CPR duties in the event of an incident.
To better align with NFPA 70E protocols, the latest CBA language no longer uses the voltage level as the only determining factor when additional personnel are required.  Employers must conduct, and document, a thorough risk assessment of the work tasks and procedures, the condition of the electrical equipment, maintenance considerations, shock and arc exposure levels and the qualifications of those performing the particular tasks.
The revised language reads as follows:
All justifiable energized electrical work shall be planned out following NFPA 70E procedures to analyze electrical hazards and determine when conditions warrant additional personnel to assist with the electrical tasks or to provide first aid / CPR duties.
While seemingly clear, confusion in the field as to when at least 2 qualified persons are necessary for energized work is apparent.  Both JWs and apprentices can be used for first aid / CPR response when protected from the electrical hazards.  When performing energized work tasks, apprentices are limited to a maximum exposure of 250V AC or less only after completing their first full year of apprenticeship, AND when working within arms-length of a qualified JW.
Similar to the NEC and the use of Informational Notes, the NECA-IBEW Joint Safety Committee is currently working to craft additional, clarifying, language to support the CBA electrical safety requirements and reduce any confusion.
Contact me if you have any questions about performing electrical hazard risk assessments and application of the CBA language.